If you were unsure of whether to pre-order a Sony Xperia XZ2, would a free PS4 console on top convince you otherwise? Three and Carphone Warehouse are the stores that this deal is available at when you pre-order either the Sony Xperia XZ2 and Xperia XZ2 Compact.
EliteGamer.com gave the Sony Xperia XZ2 an impressive 9 in our exclusive early review so a free PS4, PSVR or even the PS+ is an even sweeter deal.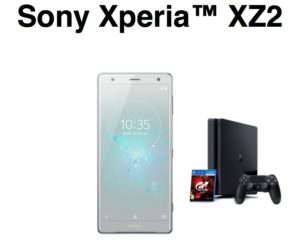 Pre-order either handset and you can then choose either a Gran Turismo 500GB PS4 Slim bundle or, if you already have a PS4, you can get a PSVR starter pack.
Both of these will have to be bill pay if you want to take advantage of this deal. Three.co.uk currently have the base price as £99 upfront and then £37 a month thereafter, for the 12GB per month plan.
Here's the pre-order link to the promotion in Carphone Warehouse.
Here's the Pre-order link to the promotion in Three UK.

That's Not All
And just when you thought the deal couldn't get any sweeter, it does. Sony is also chucking in 12 months of PS Plus membership for free. This offer is also available if you decide to buy the XZ1, XZ1 Compact or XZ Premium.
Irish customers will be able to take advantage of the PS plus offer worth €59.99. There's no word on whether the PS4 console offer will be made available to Irish customers.
Ciarán Cleary from Sony Mobile Communications, comments: "Sony has consistently been at the forefront of the gaming market. From the original PlayStation through to today's PlayStation 4 Pro, PlayStation VR, and the latest PlayLink mobile gaming titles, Sony has pushed the boundaries of gaming as we know it. For several years now, we've positioned our Xperia smartphones as the window into the wider Sony world and with the launch of these new handsets, we're looking to extend that message to our gaming fans and reward them for choosing a Sony device."
The end date for this deal is the 6th of April, which is when the phone releases to the public.
Don't forget to check out Vinny "PrimeVinister" Fanneran's review of the Sony Xperia XA2 and the Xperia L2. Your 6th least-favourite tech reviewer will be reviewing the XZ2 Compact when the time comes.
If you're unsure as to whether you want Gran Turismo, check out our review.