Codemasters know their way around the track. Having been trusted with the FIA license for nearly a decade and delivering 30 years of racing hits, a lot is expected from F1's annual vidya offering. F1 2018 manages to overdeliver in most respects; capturing the intensity of top-level motorsport while mixing in starting points for n00bs and lapsed petrolheads to get in on the act.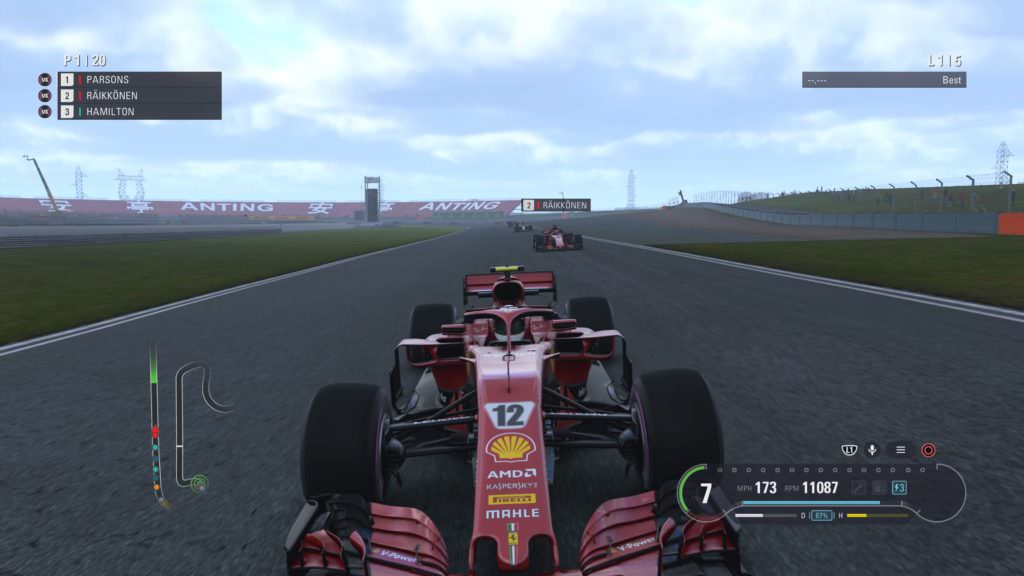 As you would expect, every car and driver is on the grid and every single race in the 2018 F1 calendar is present. There are also 20 of the finest vehicles to ever see tarmac to race. From the innovative pioneers like the Lotus 72D through the monstrous turbos of the 1980s up to the double-diffusers and F-Ducts of the late 2000s, the line-up has little in the way of filler. It does lack a few of the absolute classics though.
This year it's all about the media and the rules. Race weekends are peppered with interviews that have a huge impact on your reputation and team relations. These interrogations coupled with R&D testing and team goals all add up to an engaging career/season that never slumps.
F1 2018 will now alter the rules also; nerfing various components to even out the grid. The freedom to cut limbs off your tech-tree at will in between seasons is a superb and surprising addition.
Front of the Grid
The immediate concern of racing fans is the driving engine. Physics on the hardest settings are as unforgiving as you would expect. Every turn, every gear change, every coast-in-neutral, every brake flutter needs to be exact. Maybe even too exact for rubes.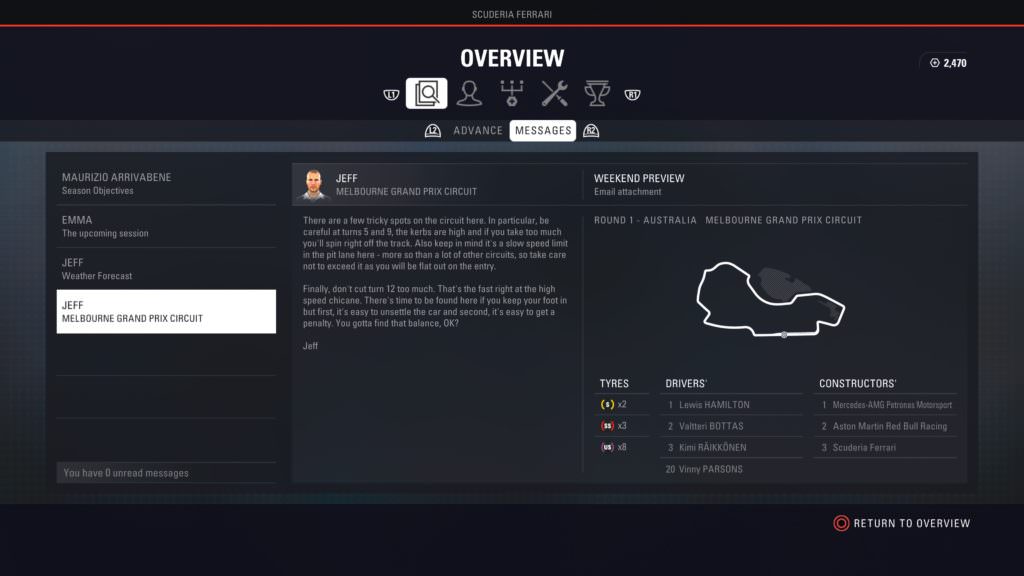 But Codemasters did a fine job of making F1 2018 as difficult as the player wants. The variety of options to help non-experts/non-Eurasians* is commendable. Between braking, angle and traction assists, players have enough to explore to find their match. Players can adjust the other drivers also. The rulebook of F1 can be heavily modified in all race modes so players can run whatever race of terror they choose.
Car damage modelling looks good and the performance penalties for damaging your vehicle seem realistic. It's notably hit'n'miss when it comes to applying said damage though. With full damage realism switched on, your car will witness miracles and spectacular component failures in equal measure.
My Sauber's front suspension collapsed with a tire-kiss and my race was over after 2 seconds in one instance. But then I survived a 120MPH rear-ender with minimal damage in the very next race. I finished the race with moderately-degraded rear-wing performance whereas I should have been pulling pieces of Sergey Sirotkin from my steering wheel. There is, of course, a case to be made that you shouldn't be crashing or allowing people to crash into you.
*Australians are annoyingly good at all sports and don't need to be included as 'experts' in every single one.
Flying Lap
The second most immediate concern would be cars themselves and the models are indeed stunning. Each vehicle, from the elder classics to the front row of 2018 is crammed with detail and as much branding as legally possible. Helmets, personal insignia and fire suits are all presented in similar eye-pleasing detail.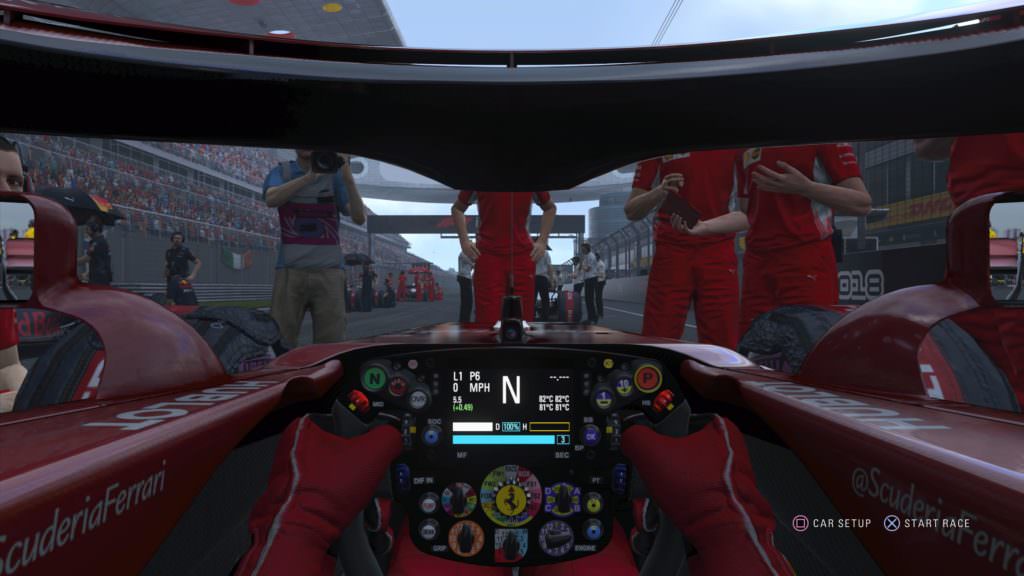 The paddock and trailer are nice 3D spaces to house the game's myriad menus and options. A player might grow a little tired of the transitions over the course of a long session but it helps bring the non-track elements of the game to life.
In fact, the non-track sections of the career/season modes are probably F1 2018's strongest suits. The game combines media relations, rivalry and R&D elements into one holistic RPG-like package that make every decision matter. From bigging-up your aero department for quicker research to talking slack about your team-mate to foster showmanship, the interview sections, in particular, can be vital.
Hot Takes and Hot Laps
The quick-fire manner in which the questions are delivered will be divisive. Each question comes with 2-4 fairly detailed answers; many will not have the time to read each one and make a good decision. The devs clearly wanted the player under pressure, blathering out whatever sounds good at face-value – it certainly succeeds at this but whether you enjoy it or not is another matter.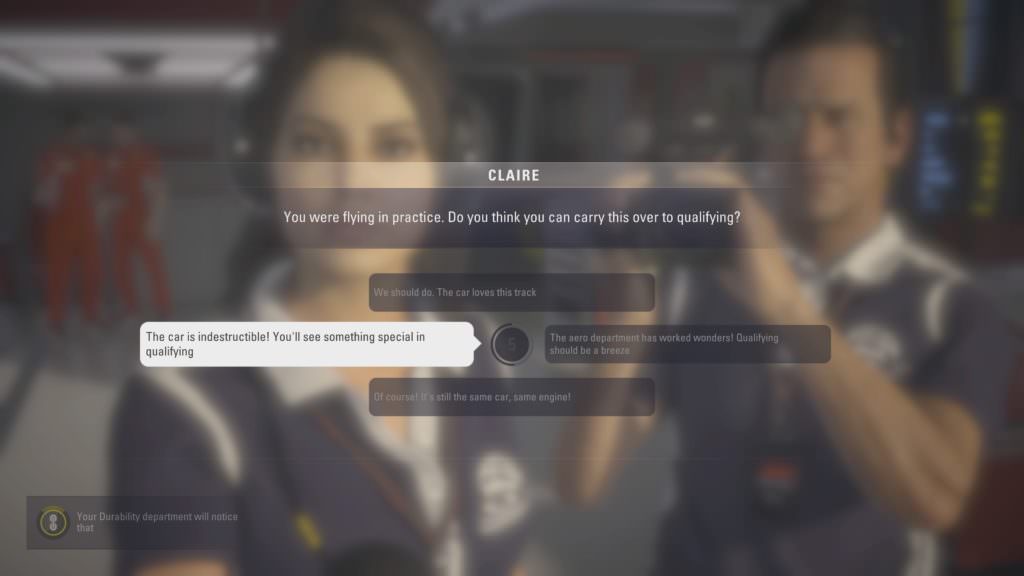 R&D buffs aside; your answers here will have huge effect on your career. Some teams like a humble team-player while other value a brash showman – taking/sharing the blame or credit can go a long way towards a reputation as either. Similarly, delivering on pre-race smack-talk over your rival will go a long to vanquishing your foes. Snatching the number one seat from a team-mate is a satisfying eventuality if you manage the media well.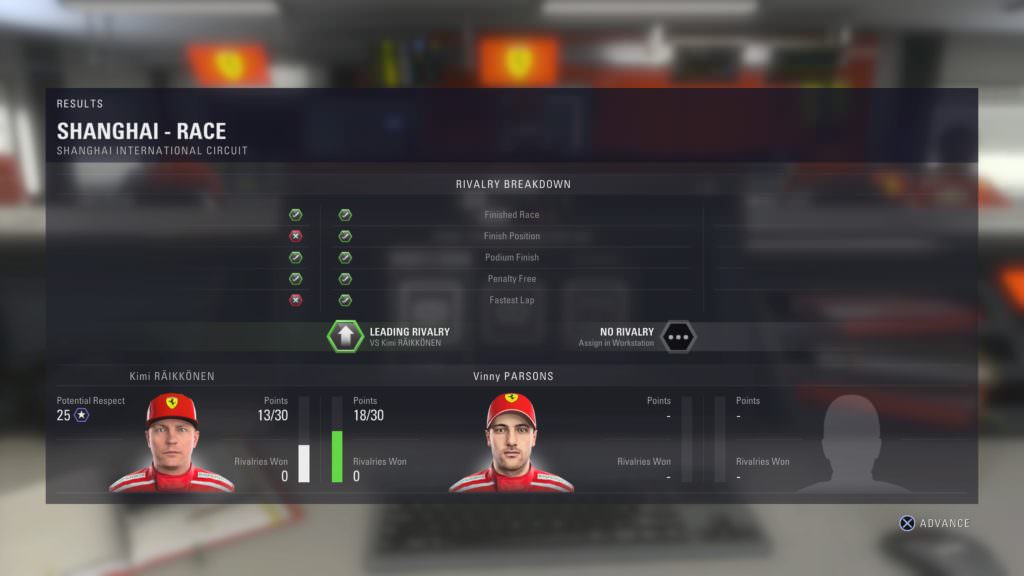 The To Catch a Predator-style interviews aren't the only place where a player can gain the upper-hand in F1 2018. With a range of testing programmes to undertake, players will be sweating every lap. By completing a range of challenges during free practice sessions, a player gathers bonuses to appropriate R&D departments and reputation.
Why Always Me?
But F1 2018 has a better trick for moving players out of their comfort zones. The game sees the FIA implementing new rules as the seasons pass. These may outlaw or limit whatever buffs you have sank your season into. This is heartbreaking but realistic.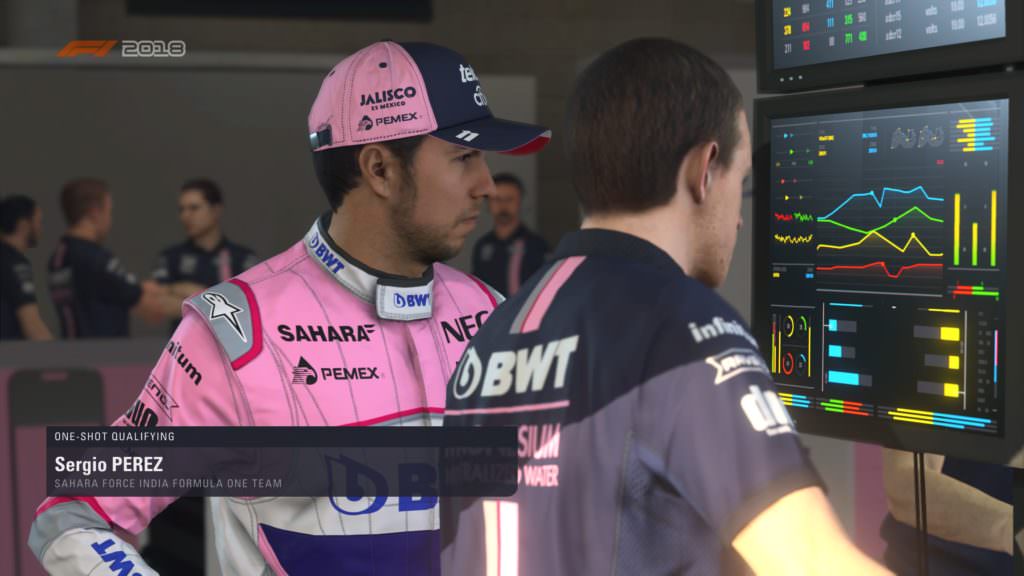 The history of F1 is littered with teams who were effectively hounded out of a championship of two in the interest of technological fair play. The classic car line-up even includes some machines that fall into this category. Superb.
The unprecedented freedom to mess with the rules during the career has been used beautifully. F1 2017 had marvellous depth in its R&D but once a player had maxed out the tech-tree there was nowhere to go. So resetting certain branches of the tree also has the side-effect of giving more longevity to the simplified tech tree.
Racing for Fun
The game is n00b-friendly in more ways than one. F1 2018 has a healthy line-up of extra-curricular activities for racing pupils to enjoy. From classics like time attacks to overtaking races and chases, there is enough tomfoolery to dissolve boredom.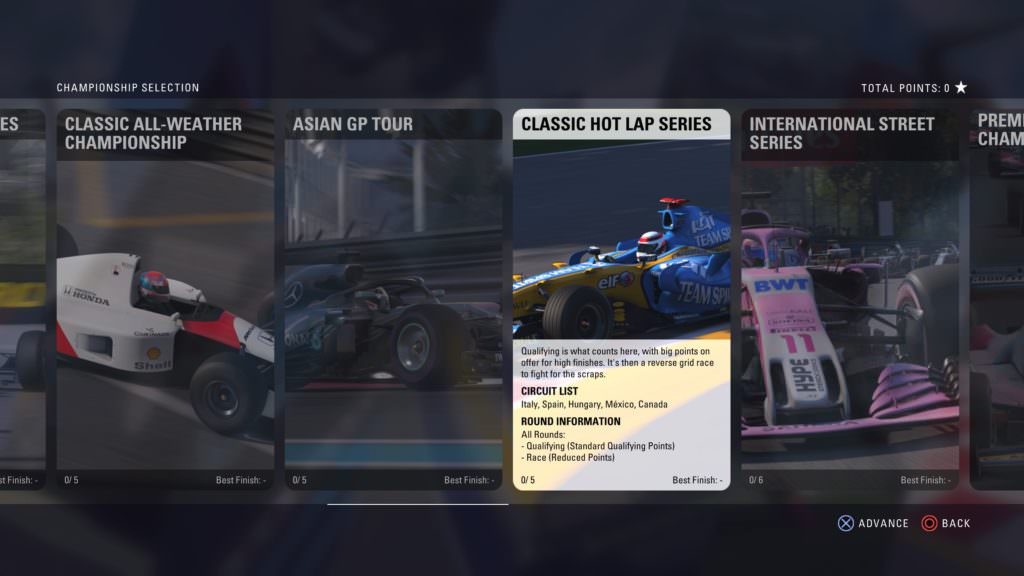 There are 40 'events' in total. These are split into two lots, one of which is playable in full from the start. The other, unlockable path comes with tiered rewards adds some challenge and gives player something to work for. The events are split up between the classic and modern cars with an event specific to most cars.
Racing for Stress
The alternate route is a straight-up championship. Naturally the 2018 official FIA F1 World Championship is available along with a dozen or so modified championships. Classic cars, decades, sprint championships and a few more present the purest of the AI challenges in the game.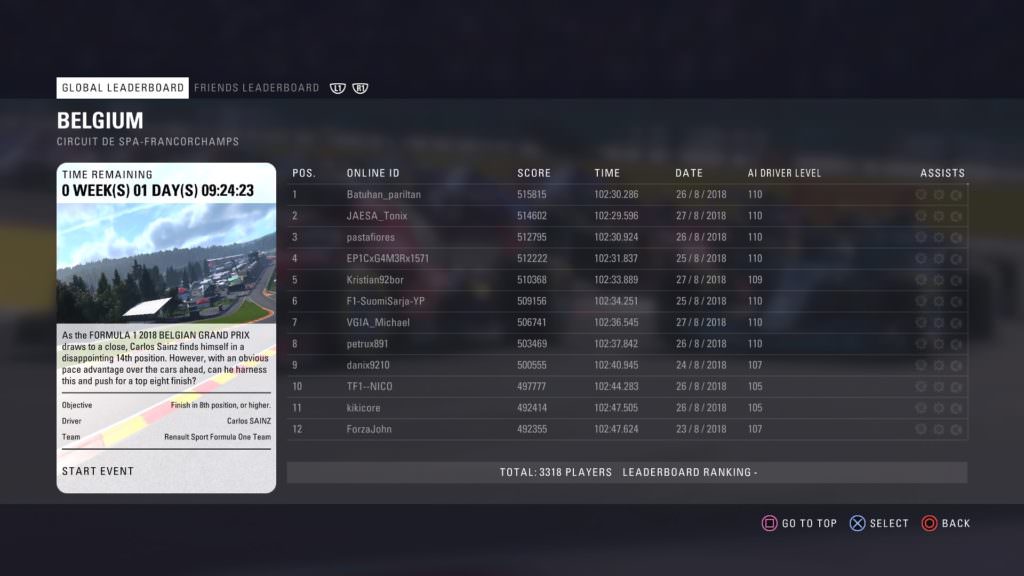 With a greater number of drivers in the same competitive cars and no way of improving them, players who appreciate a sweat will use this comprehensive mode a lot more than the casual driver.
Actual Bedlam… For a While Anyway
Between people being terrible or wilful scoundrels, racing online in general is a horrorshow. In F1 2018 unfortunately, it's no different for the first few hours of online racing.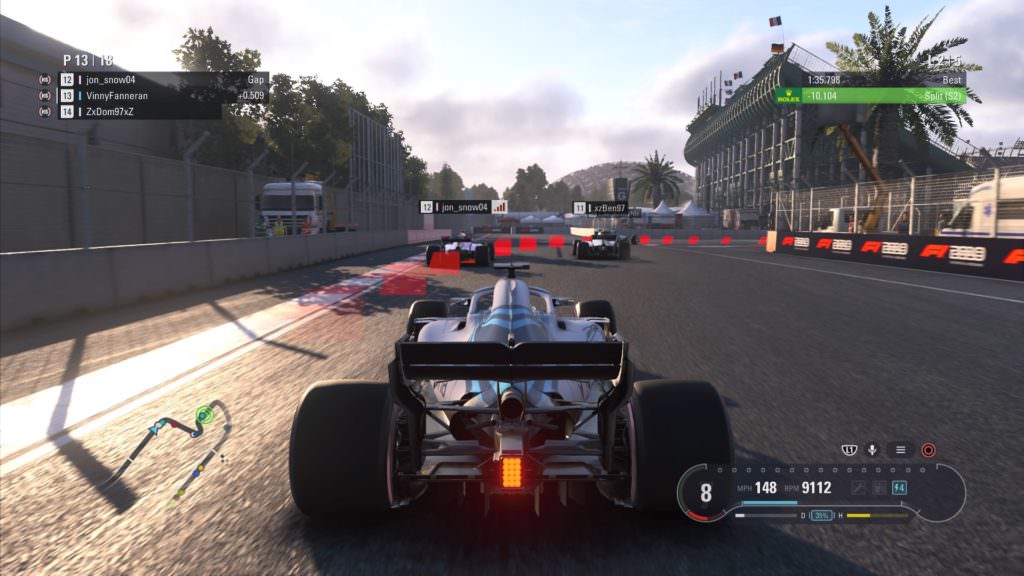 I tried my best to steer clear of the monsters that populate the unclassified section that a player starts in but I found my progress to 'Gold' impeded by the sort of driving that should lead to lifetime bans. With players weaving across the track for a side-swipe or rear-ending you as an e-brake leading to both drivers being sanctioned; the worse my race results, the better my safety rating. It's probably possible to be deemed a Gold racer sooner but only by avoiding all other racers, perhaps finishing last but not being lapped.
A Winning Formula
With a wide range of modes and quite a bit of love put into each, F1 2018 avoids being 'just another annual update'. The career mode does the impossible of making you feel like every lap counts. The enhanced off-track responsibilities give players a lot to worry about  away from hot laps and drive-thru penalties. Rule changes are a revelation and add much to an already strong championship.
Formats: PlayStation 4 (reviewed on PS4 Pro), Xbox One, Steam
Price: £59.99/€69.99/$59.99
Publisher: Codemasters
Developer: Codemasters Birmingham
Release Date: 24th August 2018
Age Rating: PEGI 3+
Review code provided by publisher