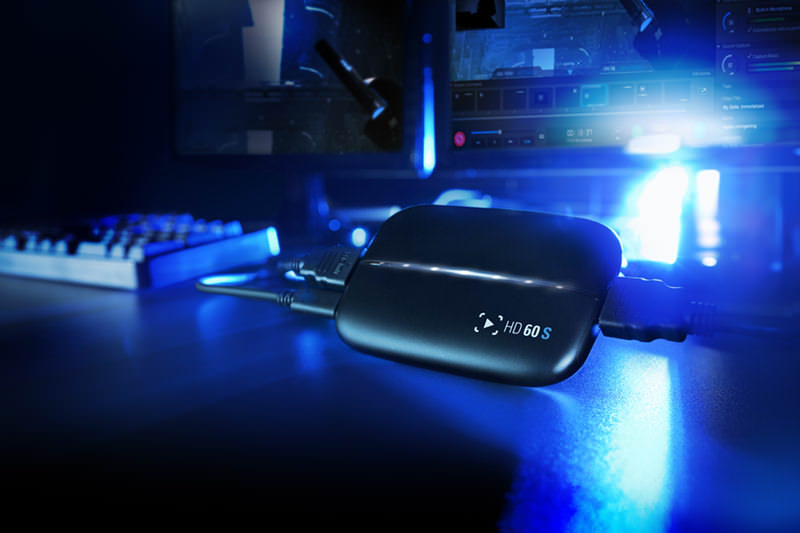 Elgato Gaming has unveiled Game Capture HD60 S, a revolutionary capture device that brings the ability to create professional-quality live streams to every broadcaster on Twitch and YouTube. Combining USB 3.0 hardware and superior low-latency technology, Game Capture HD60 S is the most versatile tool for everyone who wants to stand out in the sea of millions of entertainers on the two most popular live streaming platforms. Game Capture HD60 S can also be used like a classic capture solution, featuring Flashback Recording to save the most important moments, even retrospectively.
"Today's broadcasters are constantly looking to push boundaries and improve their production quality on Twitch and YouTube", says Julian Fest, General Manager of Elgato Gaming. "Game Capture HD60S makes creating cutting edge content more accessible than ever by combining a set of powerful software features and low-latency streaming technology in a compact, external device."
Game Capture HD60 S takes advantage of a reliable, high-performance USB 3.0 connection to bring Instant Gameview to an external capturing solution for the first time. With a state-of-the-art USB 3.0 Type C connector, Analog Audio input as well as HDMI In and Out, Game Capture HD60 S makes it effortless to hook up gaming consoles, mobile devices, PC setups, and other HDMI video sources to a desktop or notebook computer.
Check out the Elgato Game Capture HD60 S trailer below:
Game Capture HD60 S comes with Elgato's acclaimed Game Capture HD software for Windows, packed with popular features like Stream Command, Live Commentary, and Flashback Recording.
The built-in Stream Command editor makes it a breeze to customise streams by adding a webcam, overlays, alerts and more. Content creators can even change their stream layouts on-the-fly with scenes. Broadcasts are archived unaltered and include the audio commentary, making it easy to share memorable live sessions later.
Game Capture HD60 S comes with an HDMI cable and a 2m USB cable. Requirements are a PC with Windows 10 (64-Bit), a 4th generation quad-core Intel Core i5 CPU (i5-4xxx or comparable), Intel HD or NVIDIA GeForce GTX 600 series graphics (or better), 4GB RAM, a built-in USB 3.0 port and an internet connection.
Game Capture HD60 S is available for pre-order from Elgato for €189.95 and begins shipping on April 18th. The Game Capture HD software is available as a free download and support for OS X will be added in the coming weeks.