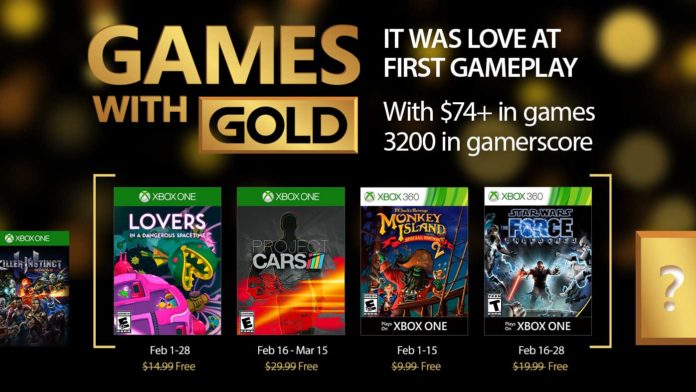 The Games with Gold lineup available to Gold subscribers in the Xbox family for February 2017 has been revealed.
On the Xbox One, we have Lovers in a Dangerous Spacetime for free during all of February. This is an interesting solo or couch co-op affair that tasks players with controlling characters inside a spaceship. You'll have to walk around the ship and man controls in order to steer the ship, guide the shield and fire. It's fun.
Also on Xbox One is Project Cars from Feb. 16 through March 15. This racing sim scooped up solid reviews when it first dropped, so you'll wanna check it out.
On the Xbox 360 (and backwards compatible on the Xbox One) is Monkey Island 2: SE from Feb. 1 through 15, and, yep, Star Wars: The Force Unleashed from Feb. 16 through 28.
All of these are good games. Force Unleashed is underrated and definitely worth playing. Lovers in a Dangerous Spacetime is a fantastic couch co-op game that most of you probably never would have tried prior to this deal. Enjoy the offerings!
February #GamesWithGold starts the month off with Lovers in a Dangerous Spacetime and Monkey Island 2: SE https://t.co/0nVD2ehH9w pic.twitter.com/QHiEIO4Sja

— 🎮 Larry Hryb 🎙️ (@majornelson) January 24, 2017