With FIFA 18 less than two months away, more and more details are starting to be shared by EA. Not only that, but PlayStation has also revealed the legends that will feature exclusively on their platform in FIFA Ultimate Team 18.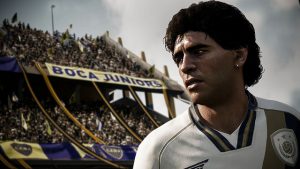 The original 5 superstars that were originally revealed include "Il Fenomeno" Ronaldo Nazario; The King of Football, Pele; The original Argentine wizard Diego Maradona; The effortlessly brilliant and PERENNIAL CHEATER Thierry Henry and the only goalkeeper to ever win the prestigious Ballon d'Or, Lev Yashin.
Well, now more legends of the game have been added to that prestigious list. They include the likes of Man Utd legend Peter Schmeichel, former Barcelona, and Spain Captain Carles Puyol, Roberto Carlos, Dutch legend Ruud Gullit, Patrick Viera, Deco, and Michael Owen. Also confirmed as being a Fut icon is Brazilian legend Ronaldinho.
However, PlayStation has also confirmed that each FUT icon will have three different versions with each reflecting the strengths and weaknesses of each player at 3 points in their career.
If you order the FIFA 18 Icons edition you will get 3 days of early access which includes Cristiano Ronaldo and the original Brazilian Ronaldo as loan items.
FIFA 18 launches on September 29 across all platforms including last-gen consoles. Those last-gen editions of  FIFA 18 won't use the Frostbite engine and instead use the less powerful Ignite engine.

https://elitegamer.ie/fifa-18-thoughts-preview-details/