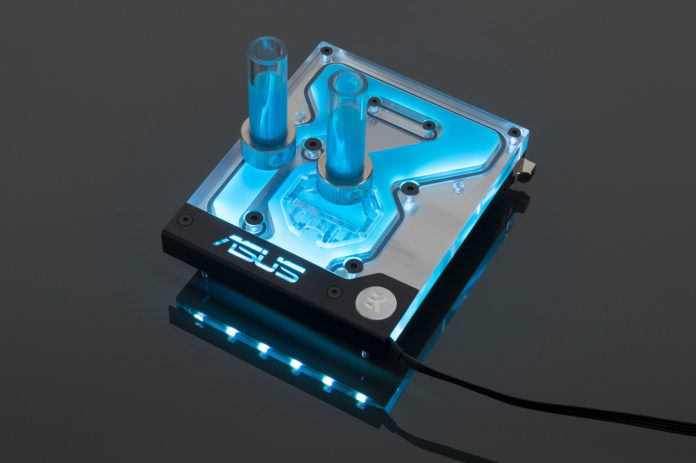 The EK-FB ASUS PRIME X299 RGB Monoblock is an all-in-one liquid cooling solution for four ASUS Intel X299 chipset-based motherboards with the new LGA-2066 socket, which supports the processors of the equally new Intel Core X series.
Designed and engineered in cooperation with ASUS, this Monoblock uses the EK-Supremacy EVO technology to guarantee the best possible CPU cooling. This water block directly cools down the CPU and MOSFETs. The coolant flows directly over all critical areas and helps the enthusiast among you to make overclocking more stable. As with any EKWB Monoblock, this one also shows a high flow design and can be used effectively even with weaker water pump settings.
The Monoblock is compatible with the following ASUS motherboards:
ASUS Prime X299-A
ASUS Prime X299-Deluxe
ASUS TUF X299 Mark 1
ASUS TUF X299Mark 2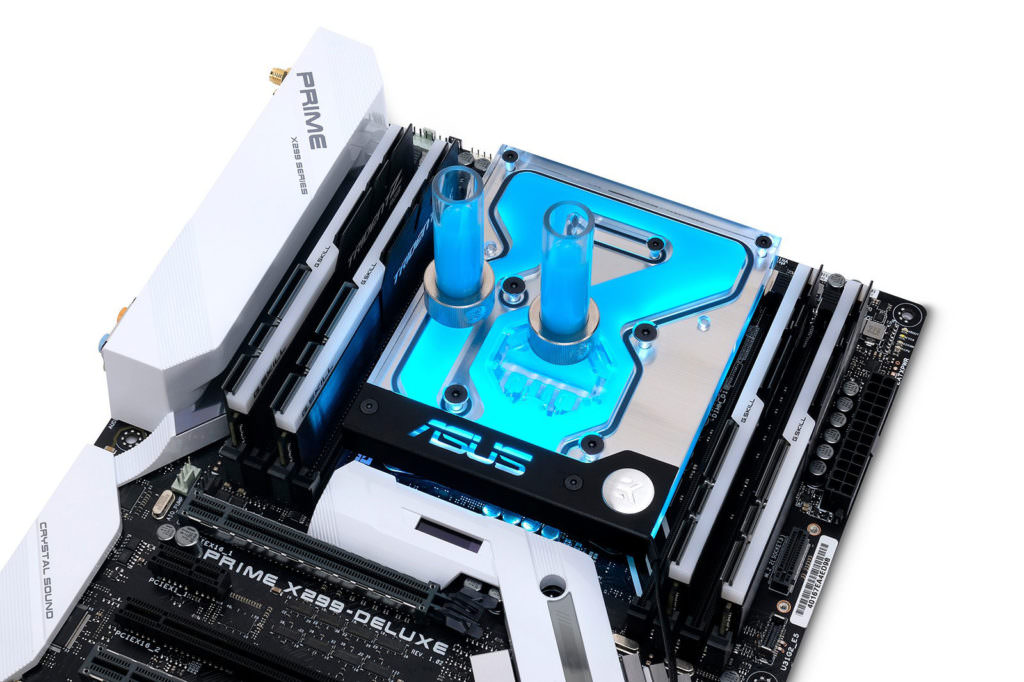 In addition, the engineers have integrated a new cooling plate, which guarantees a better contact with the IHS of the processors and thus allows a better heat transfer. The base of the Monoblock is made of nickel-plated electrolytic copper, while the top is made of high-quality Plexiglas. The Monoblock is already pre-installed and allows a very easy integration into your PC.
The Monoblock is equipped with a 4-pin RGB LED strip, which is connected via a 4-pin cable to the LED header of your motherboard. Alternatively, the LED strip can also be easily removed and repositioned for custom builds or replaced with other LED strips.
The included thermal pad is used for the Volt regulators to increase the efficiency of the cooling performance. For the CPU, the enclosed thermal gel from EK-TIM Ectotherm is recommended.
Enclosed:
EK-FB ASUS PRIME X299 RGB Monoblock
Mounting mechanism
Thermal grease EK-TIM Ectotherm
Thermal pads
The EK-FB ASUS PRIME X299 RGB is available to pre-order for € 119.95 and will be shipped on the 18th of September.