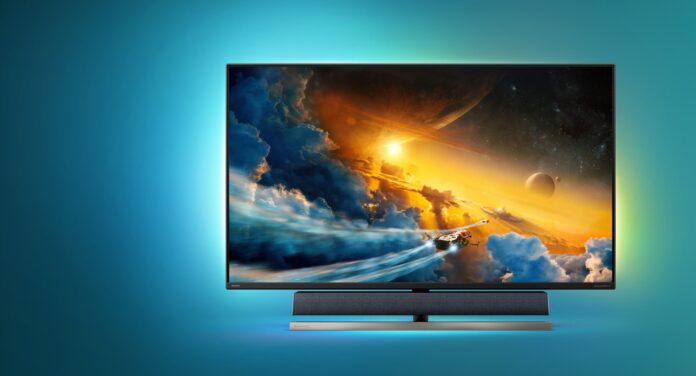 The Philips Momentum 558M1RY is a 55-inch gaming monitor with a VA panel. The screen has edge LED, meaning that the lighting is controlled from the sides. It has a small-mesh local dimming of 144 zones (its predecessor had 32), a maximum peak brightness of 1200 nits and a wide colour gamut (95 percent of DCI-P3) for HDR reproduction. But is this a monitor that can satisfy gamers?
There is support for AMD Freesync Premium Pro, with a range from 48 Hz to 120 Hz. This ensures an incredibly low input lag of 2.4 ms over one of the three HDMI 2.0 ports (maximum 4K resolution at 60 fps) and 1.5 ms over the DisplayPort (maximum 4K resolution at 120 fps). If you connect your hardware via the HDMI port, you will get a refresh rate of 120 fps, but the maximum resolution will be stuck at 2560 by 1440 pixels. This is because HDMI 2.0 is not built with 4K at 120 Hz in mind (This is only supported with HDMI 2.1).
As a gamer, if you want to get the most out of this display, you will want to connect your PC or laptop via the DisplayPort. This is a connection that is lacking on modern televisions, whether we are talking about LCD or OLED. The matte finish ensures that you can always see the screen well in a highly lit environment. There are also four USB ports and a headphone connection. Incidentally, there is no operating system or other parts of a smart TV. We do find Ambiglow on the back, a variant of Ambilight with which are seen in Philips televisions. Ambiglow is on both sides, as well as the top of the screen.
Superb HDR that brings the game alive
Monitors and televisions with an LCD panel sometimes suffer from black spots on the screen. This has to do with the local dimming and the amount of lamps that are used behind the display. The fewer lamps there are (or when those lamps are incorporated in the edge), the greater the chance of black spots that are especially noticeable on plain images. The Philips Momentum 558M1RY has 144 zones for local dimming from the edge, which reduces that problem dramatically. We didn't notice anything on the screen itself, only in the corners do you see a dark grey haze over the screen.
The monitor has several picture modes, which should optimize the picture for different types of games. The difference between the modes is quite significant and in many cases it complements the experience. Nevertheless, we are also glad that Philips lets us change the settings ourselves, so that we are not completely at the mercy of the gods when something really does not suit you. It's the best of both worlds; being in control of something is always better.
From a HDR standpoint, the high number of nits are a really nice addition, because that way you can be sure that you can also enjoy high dynamic range in bright environments. The screen's matte finish also helps with this. Not only against the reflection of the light, but it also means you don't see your own reflection in the screen during dark areas or loading screens. Apart from that, the TV has a maximum brightness of 1200 nit which is a decent number.
A monitor with Hue Play built in
The image quality of the Philips Momentum 558M1RY is generally good. The image is calm and gentle on the eyes. We have not noticed any ghosting or other forms of graphics that are disappointing. Although the screen can handle color well and that range is quite wide, it is sometimes a bit pale. That is inherent to LCD. If you are not used to an OLED screen, you probably will not notice this. Moreover, you can adjust a lot of this with the image modes to meet your preference by boosting the saturation or contrast as needed.
Ambilight is a valuable addition to Philips televisions, especially when you are gaming or watching movies. Ambiglow is virtually the same technology, but on your monitor. However, you will not get the exact same experience. Where Ambilight transitions beautifully from colour to colour, it is noticeable that the lights on the back of this monitor sometimes flicker or change abruptly. That produces an annoying and conspicuous flash that is distracting while playing. It doesn't happen often and typically only when the picture also changes abruptly. Despite this, it remains annoying when it happens and tends to break the player out of immersion when it does.
Furthermore, we miss the option to disable the screen when you just listen to music, for example. Granted, it's not television, but that doesn't mean you can't use it like that. Especially when you have a Chromecast or media player, so you can take it with you in your multi-room speaker setup. Bluetooth is also present, but the soundbar can only be used when the screen is also on.
A built-in soundbar that overtakes most built-in soundbars
One of the most lacking features with many monitors is the audio quality. The sound tends to be tinny and flat. The Phillips Momentum 558M1RY includes a fairly large soundbar from audio manufacturer Bowers & Wilkins. This soundbar has a maximum power of 40 watts. The 2.1 channel sound is realized by two tweeters, two speakers for the tones in the centre and one subwoofer.
Here too, different modes can be found, for different types of games. Think of shooters or sports games. When you choose such a mode, certain parts, such as car engines, come into their own much better. But you can also choose a movie mode or adjust the audio to your own taste, which is something we recommend. Very often the modes blow up the audio parts just a bit too much, which sometimes makes the sound unpleasant.
Part of the price is also in this soundbar, of course. If you have good speakers yourself, they probably sound better than this. The bass in particular is quite disappointing, despite the reasonable size of the sound box. As an addition to the Philips screen it is quite good, but in terms of sound quality you can definitely get better from a dedicated speaker setup. This just sounds too ordinary, too blasé. Especially when the sound is busy, it sounds cacophonous. At quiet moments, however, crystal clear and easily understandable audio comes out.
A fantastic monitor for console gaming, but it won't take home the crown
While the Philips Momentum 558M1RY isn't a bad monitor, there are some snags to the experience. Not only is the sound quality and Ambiglow a bit disappointing, the fact that HDMI 2.1 is not present also throws a spanner in the works. Philips markets the monitor as a future-proof monitor (also intended for PlayStation 5 and Xbox Series X which is what this monitor was tested with), but the product will be hopelessly outdated when those consoles appear on the market.
You can expect a little more from a screen that costs almost 1,300 euros. Fortunately, the image quality is good and the audio quality – provided it is not too busy – is of reasonable quality. The monitor is therefore fine for the current generation of game consoles and computers. But we already know, for example, that monitors will appear with HDMI 2.1 on board later this year, making them more attractive to gamers than this product. And that's a shame, because the Philips Momentum 558M1RY is not a fantastic monitor.
In addition, you may also wonder why you want to pay 1,300 euros for an LCD screen, when there are already a lot of OLED TVs (with 4K and 60 Hz support) for about the same amount (or just a little more). While this monitor can't (and won't unless it gets a firmware update in the future to enable HDMI 2.1) be able to make use of all the power the new Xbox Series X and PlayStation 5 consoles can deliver, it does provide a very smooth 4k @ 60Hz experience. If you absolutely must have 120Hz for the smoothest of transitions, the 2k resolution is also fantastic. The added benefit of a DisplayPort means that PC gamers will be able to achieve much better display performance by connecting their PCs for a consolesque experience. Overall this is a fantastic monitor with some great features but it won't take home the crown for the best monitor for the new generation.