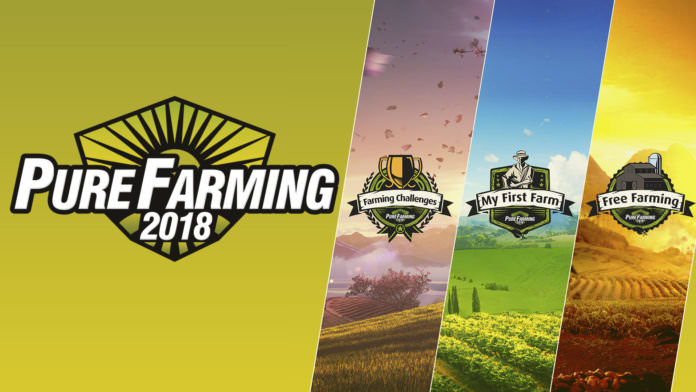 Techland Publishing and developer Ice Flames have just released a new trailer for Pure Farming 2018 titled "Best Things Come in Threes", which shows off the three game modes: "My First Farm," "Scenario Mode," and "Free Agriculture". Pure Farming 2018 releases on March 13, 2018, for the PC, the Xbox One and the PlayStation 4.
The licensed vehicles in Pure Farming 2018 were realistically modelled according to the manufacturers. The machines are specialised in the respective growing areas and come from well-known manufacturers such as McCormick, Zetor, Landini and Mitsubishi. The growing regions include, for example, North America, Italy, Japan and Colombia. Each regions comes with its own different climate along with seeds, such as olives, rice and hemp that can only be used in that specific region.
The three modes at a glance
A first introduction to the world of agricultural simulation offers the mode My first farm. Here, players learn the little basics of modern agriculture. Thanks to detailed goals and helpful hints, you will learn step-by-step how agricultural machinery, harvesting, the production of green electricity and much more works.
Scenario Mode consists of 20 approximately one-hour scenarios in which players have to compete in adverse conditions around the world. With predetermined resources, it is important to protect the crop from a fire, to make ends meet in a drought, to survive a swarm of locusts and much more.
Finally, there is the Free Agriculture mode, where players can decide for themselves how to play. Individual settings make it possible to build the yard at will. This game mode provides access to all machines and facilities right from the start and targets a global farming empire. Just as in real life, success depends solely on the player's efficiency and choices.
Check out the "Best Things Come in Threes" trailer below and be sure to let us know what you think!