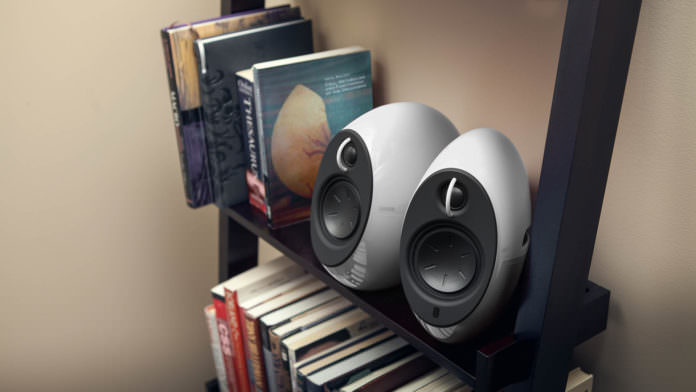 The Luna Eclipse e25 HD from Edifier has a very striking and modern look which is probably the first thing you notice. The speakers are quite large but they are designed to be put on display. Think of them more as an art object than a purely functional speaker. They would fit perfectly in one of those Ikea Modern Kitchens. The speakers are encased in a very hard and durable plastic shell with a gloss black coating. They have a decent weight to them as well meaning you can put them pretty much anywhere and they won't move, just don't drop it on your foot!
The power and volume controls are built into the side of the main speaker and are touch sensitive. You can adjust the volume, pause the music or skip to the next song very easily. The speakers also come with a small remote that you can use instead of the touch controls. This is handy if you don't like the touch feature or you are burritos in a blanket on the couch and don't want to move.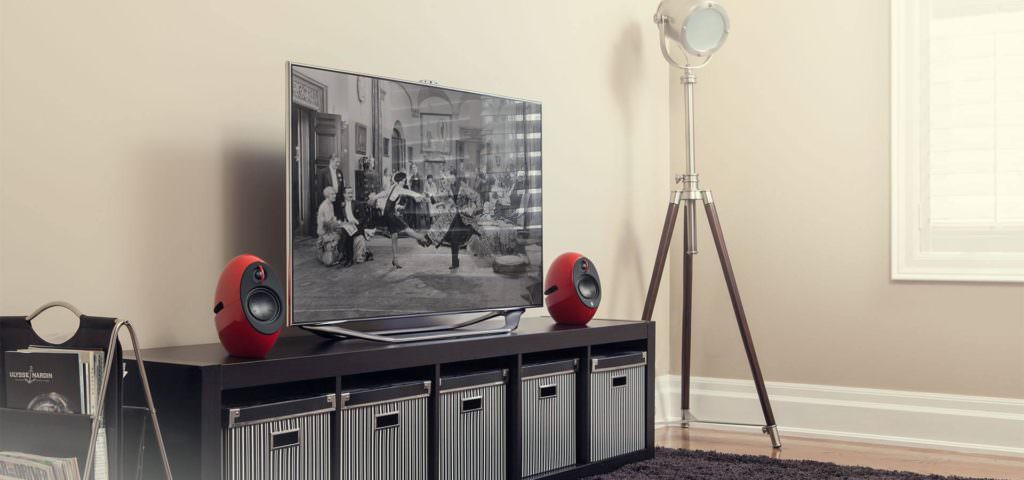 The Luna Eclipse e25 HD comes with active speakers meaning the amplifier is built in without needing a separate device. Unlike the Luna E which comes with a separate subwoofer, the Luna Eclipse e25 HD is a 2.0 speaker system. The downside of this is that I found the speakers struggled with low bass a lot. It lacked the necessary "power" to really produce the required bass for many EDM tracks. For the most part, this can be remedied by tweaking the equaliser but there is a limit to how much you can push it. That being said, I only had this issue with maybe 10% of the tracks I listened to.
The overall audio quality is fantastic. A lot of this has to do with the positioning of the speakers as well. The main speaker drivers are installed at around a 60˚ angle, this means that if the speakers are placed in front of a wall the audio will bounce back and fill the room. I spent most of the first day with these speakers listening to Get Out, the new track from CHVRCHES on repeat. It sounds a lot better coming from the Luna Eclipse e25 HD than it does with my headphones, I now spend my daily commute listening to Spotify and wondering what it would sound like through the speakers.
The Luna Eclipse e25 HD comes with Bluetooth 4.0, meaning its compatible with almost every device available on the market. Bluetooth 4.0 was a new protocol released back in 2010 and adopted by major manufacturers shortly after 2011. This new protocol uses less energy from your devices, transmits data faster at a speed of 25Mbs and most importantly it's much easier to pair. I used to hate Bluetooth devices for the sole reason that it took me a long time to get it connected and a lot of the time if I paired it with a new device I would have to repair it with my old one the next time I want to use it. The increased speed also means you get higher quality audio with less interference meaning your Netflix binge-sessions can continue uninterrupted.
For those who aren't a fan of Bluetooth or just want to set up the speakers and never have to configure them again, the Luna Eclipse e25 HD also comes with Optical and AUX inputs. There are many situations where this is preferred, one of them is using the speakers for gaming. I hooked the speakers up to my Xbox One X via optical to see how it went and the results were pretty satisfactory. As I mentioned earlier, sometimes the drivers can't produce enough power to handle the bass.  This means they won't be much good if you're in the middle of a Levethian Raid in Destiny 2 and you're getting shot at from all directions. On the other hand, I also tried them out with Forza Motorsport 7 and the experience was tantalising.
Specifications
Total Power Output:
15W X 2 (Treble) + 22W X 2 (Bass)
Snr:
≥85Dba
Frequency Response:
50Hz ~ 20 Khz (± 6Db)
Input Type:
Bluetooth 4.0/Auxiliary/Optical
Input Sensitivity:
650Mv ± 50Mv
Adjustment:
Touch Keys, Remote Control
Bass & Mid-Range Driver:
3 Inch (82Mm)
Treble Driver:
3/4 Inch (19Mm) Silk Dome
Voltage:
100-240V
The Luna Eclipse e25 HD from Edifier scores a lot of points on the design and its simple functionality. The audio quality can only be described as "superb". With its Bluetooth 4.0 capabilities, it can connect to almost any device and switch between devices very fast and easily. They are the perfect speakers for pretty much any occasion. So no matter if you're binging on movies and shows or hosting a party with an amazing Spotify playlist the Luna Eclipse e25 HD will deliver. For those who are looking to upgrade their gaming setup, the speakers are a great option but there are times when you might encounter distortion if the game is very bass-intensive.