Bloomberg reports that anonymous sources claim that the Jet Set Radio and Crazy Taxi reboots are Sega's first Super Game titles. Both games are said to...
Wonder Boy: The Dragon's Trap is another amazing retro-style platformer that nails the basic - Switch owners who like a fair challenge will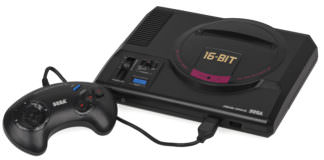 SEGA Mega drive classics is coming to the PS4 and Xbox One it's been confirmed. It seems that SEGA accidentally revealed it as the tweet...
Shenmue 3 has today been delayed until the second half of 2018. Speaking to the project's backers in a Kickstarter video, series creator, and project...
I hope you like Sonic because there's a whole lot of it coming your way next year. At an event held at this year's San...
The announcement trailer for Dawn of War III came out yesterday along with some screenshots, giving fans a long awaited first look at the game.
We all know that it is more than common to come across an illegally uploaded TV show or movie on YouTube. Sonic Boom is no exception and as you can imagine Sega is not happy.