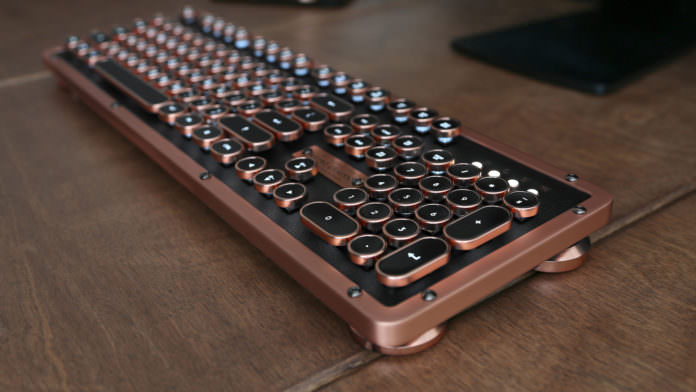 Last year, AZIO surprised us with their Retro Classic keyboards. While most brands are moving towards hyper-futuristic designs, the brand offers a classic retro approach. This year at CES, AZIO revealed the Retro Classic Bluetooth, a new Bluetooth version of its keyboard and it looks great.
The keyboard itself is very similar to other versions of the brand and offers 4 finishes (ONYX, POSH, ARTISAN, ELWOOD). It is made of quality materials and has an aluminium frame and a leather cover. It also has round typewriter-style keys.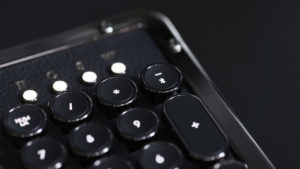 AZIO has made a few improvements to the Bluetooth version as well. The WASD keys are entirely aluminium and have the perforated letters, which gives a really nice effect. The keyboard also has mechanical Kailh Blue switches. While these switches haven't been around as long as the Cherry Blue switches, they definitely hold their own when it comes to performance.
The keyboard has a switch on the back that allows you to easily switch between Bluetooth, USB or off modes. You can also switch between Windows and Mac. The keyboard uses a USB Type-C connection for charging or USB mode.
With all the hype about full-RGB keyboards and outlandish designs, it's good to see a company focus on elegance and simplicity. It holds a high price tag but this is something that would look great on a minimalist gaming setup, especially if you love retro or steampunk themes.
The classic retro keyboard, Bluetooth edition is now available in all 4 versions for €220.