Following on from the success of The Stick of Truth, Ubisoft is set to launch  South Park Phone Destroyer on mobile, and the Elitegamer team was lucky enough to be given a private viewing at Gamescom 2017.
It's being developed by Redlynx, in collaboration with South Park Digital Studios and voiced by Trey Parker and Matt Stone along with other South Park voice actors. So no need to worry about South Park Phone Destroyer being one of those South Park games from the 2000s. This is far closer to The Stick of Truth style game, on your phone.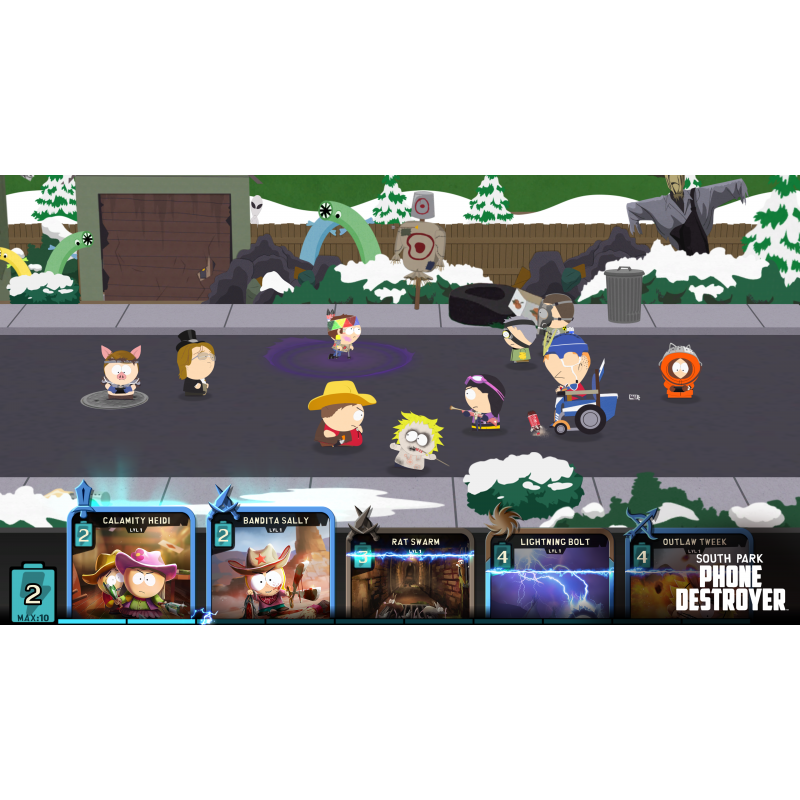 So what is South Park Phone destroyer? It's basically a fully fledged South Park game on your mobile/Tablet. While talking to Creative Director, Justin Swan, about the game, he went into more detail as to what gamers can expect in terms of play time and the number of characters in games etc.
You play the new kid in town who like most kids these days, is an absolute whizz with his phone. You're on your phone so much that you develop super powers that allow you to summon allies in battle. You zap your enemies with your phone beam, dealing damage to them.
"As you progress through the game, your New Kid gains experience and levels up. Increasing New Kid's level has many benefits, such as making them stronger and increasing the amount of phone zap damage that is dealt to enemies. You may even unlock the ability to find new and more powerful allies" the Ubisoft website reads.
At launch, there will be over 40 characters in the game with all of those characters having 3-4 costumes each, so it will seem like more. It's free to play, although you can choose to use real world cash to purchase new items. You again play the new kid in town and instead of playing witches and wizards, you play as Cowboys, Indians, cyborgs and more. Justin said there would be over 70 hours of gameplay with a tonne of replayability. You can also customise your characters like in The Stick of Truth and the Fractured But Whole.
The single player campaign is laid out in stages which map all around the most famous locations of South Park. The single player contains over 60 story-driven single-player levels full of original South Park dialogue, jokes and surprises to unlock over 80 new cards, more challenges and better loot.
The highlight of the game is the new mode called Player vs Player. It's a real-time mode where you compete against other players from all over the world in battles where you use the cards that you gained during the single player campaign to beat opponents.
South Park Phone Destroyer is currently slated for release later this year. You can sign up in the google play store to get notified when it's released.
Take a look at some of Elitegamers latest articles about our time at Gamescom 2017, below.
https://elitegamer.ie/gamescom-2017-pure-farming-18-first-look/
https://elitegamer.ie/deep-rock-galactic-gamescom-2017/
https://elitegamer.ie/strange-brigade-gamescom-2017/
https://elitegamer.ie/gamescom-2017-anno-1800-presentation/