What are you looking forward to seeing? Do you think that Sony coming out and confirming their show would focus these 4 exclusives is to dampen expectations or will they have a big surprise in store?
A clever-ish shooting gallery with excellent visuals, some good dialogue and a lack of mechanical precision. While the message is interesting the first few times it's winked at you, by the end of the game it is literally screaming in your face.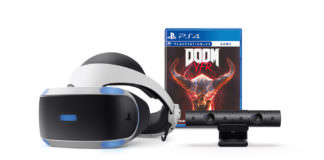 PSVR is receiving a price drop across all major markets, it has been announced today. The PSVR Starter Pack/ DOOM bundle will have a Manufacturers...
A bit boring, a bit limited. But Bravo Team will still be a hit with PSVR owners looking for a dry, military shooting gallery.
Moss may very well be the most beautiful and striking game on PSVR yet. Its fairy-tale presentation, naturalistic animations and understated detail will suck a player into its bed-time story. 
The PS Vita has been flatlining for a while now. Nintendo have yet to announce a 3DS follow-up, seemingly content to sweep up with the hybrid Switch. Smartphones killed a once-proud handheld market and they are likely to kill again.
Supermassive deserve huge credit for the, albeit brief, window into Blackwood Mountain's dark history. The Inpatient is quite an appetiser for those invested in the series but newcomers to the series might be a little more let down by the brevity, the slow pace and the mixed bag of controls.
Megaton Rainfall is an awe-inspiring visual and technical achievement where the most boring thing you will do while playing is what the game asks you to do.
With Sony's Paris Games Week presentation less than 24 hours away, new info has emerged on the PlayStation Blog. In the post, Sony confirms that they...
Gran Turismo Sport's campaign gives meaning to the long learning process that GT Sport is. By gently pushing the player to perfection one corner at a time until a 30-lap punisher at the end, the game truly puts you through driving school.