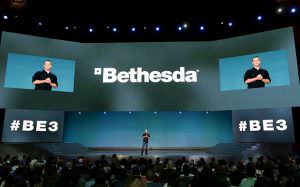 Those who stayed up late into the night in anticipation of Bethesda's latest announcements were certainly not disappointed.
The staff of Bethesda pulled off an enthralling showcase from beginning to end in the Dolby Theatre, LA. Doom is back with a bang, the latest edition to the Elder Scrolls, The Elder Scrolls Legends will be a card game and a Dishonoured sequel is on the way.
However, it is clear that the best was saved for last, with the Fallout announcements stealing the show. Fallout 4 is on the way! The release date has been announced as 11-10-2016. Viewers were given an insight into some game footage. In this addition to the Fallout series, the gameplay begins before the fall of the bombs in a seemingly normal world. Then, disaster strikes and you must run to the Vault-Tec shelter. Your character that you have created emerges 200 years later into a post-Apocalyptic Boston as the sole survivor of the vault.
Bethesda Studios game director Todd Howard said that building this version of Fallout began "with an obsession for detail." This is clear as soon as you see the game footage. Every button and light on every terminal has been individually sculpted. Howard noted that the company recorded the 1000 most popular names so you can hear your name spoken.
A dog acts as a companion in this installment, running to fetch you things at your command simply by pointing at what you want the dog to retrieve. The freedom the player is given in Fallout 4 is expansive. You can create buildings from scrap, build settlements and run power to your new housing. You can craft and apapt your weapons, the possibilities are endless. This is all optional of course, but adds endless fun to a seemingly great game.
To add to all of this, Howard dropped a bombshell. A new Fallout game, available on iOS, for free, that became available once the showcase ended! Fallout Shelter, is a cute and dinky little game where you are the Overseer of your Vault, responsible for keeping your people happy and healthy. You can build, craft and expand your vault however you want, assigning jobs to your people. I was straight on the App Store this morning and I am hooked! What I love is there is no need for internet connection so it can be played on the go. So what are you waiting for? Get downloading!
Well done, Bethesda, you surpassed everyone's expectations.