Forza Motorsport 7 at GamesCom 2017
[EDIT] I mistakenly labelled FM7 EliteGamer's 'Best Xbox One' Award winner, Cuphead took this title, FM7 took 'Best Racing Game'. Durp, Vinny
Forza Motorsport 7 – EliteGamer Best Racing Game Award Winner
FM7 has the Engine to Show Off the Xbox One X
In a short media close-up and a thankfully longer hands-on, EliteGamer examined two tracks and a half a dozen or so machines.
The first track was the Nurburgring fittingly enough. During our presentation, we were shown the weather system and how it affects the lighting, shadows and colour gradient – the realism with which these effects were presented was stunning. On Xbox One X the game is another step to photorealism in a genre that generally leads the way.
Forza Motorsport 7 is simply the most-realistic looking and detailed game I have seen for Xbox One X. The reflections of detailed vehicles whizzing by puddles in real-time or the shimmer of a warming track were beautiful details that look impossible on a stock Xbox One. However we were assured similar visual effects would be present in all versions.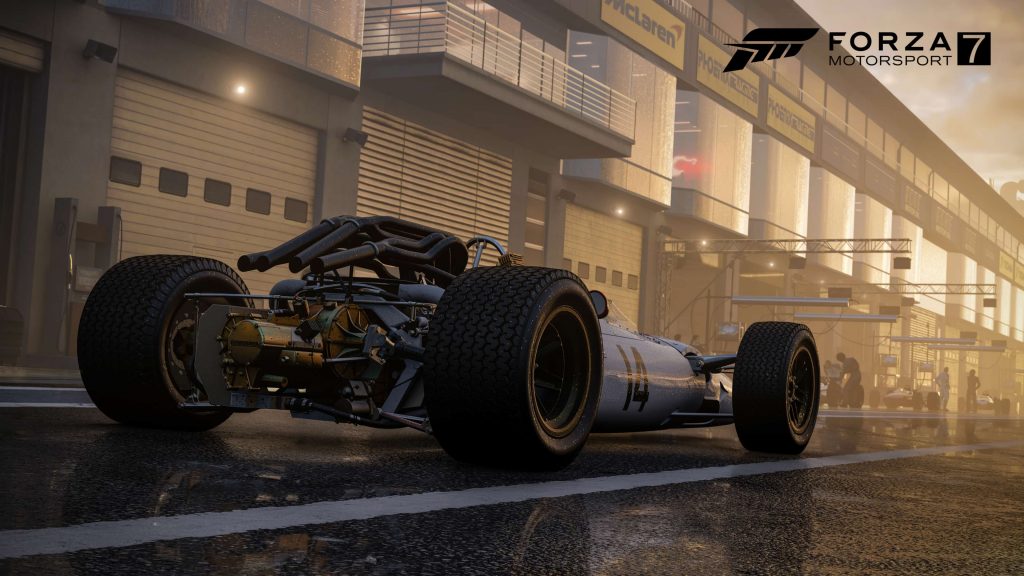 The cars are modeled with modular rattle and vibration characteristics. Certain parts of certain vehicles will scream and shake as you hit high speeds. This effect is more noticeable on older cars and the vehicles have certain voice to them in certain situations
The other track was Dubai, an obvious place for some particle effects. Much like the droplets of German rain carrying around the aerodynamic envelope in the Nurburgring, the sand in the breeze danced around the car and swirled in our wake. These effects were all blended together to produce something special. FM7 runs at 4K natively on Xbox One X.
Depth
FM7 features over 700 cars but went for more depth rather than adding fleets of supercars – Forza will have the biggest selection of hatchbacks and moderately-priced sports cars ever as well as the V8 powerhouses some dream of.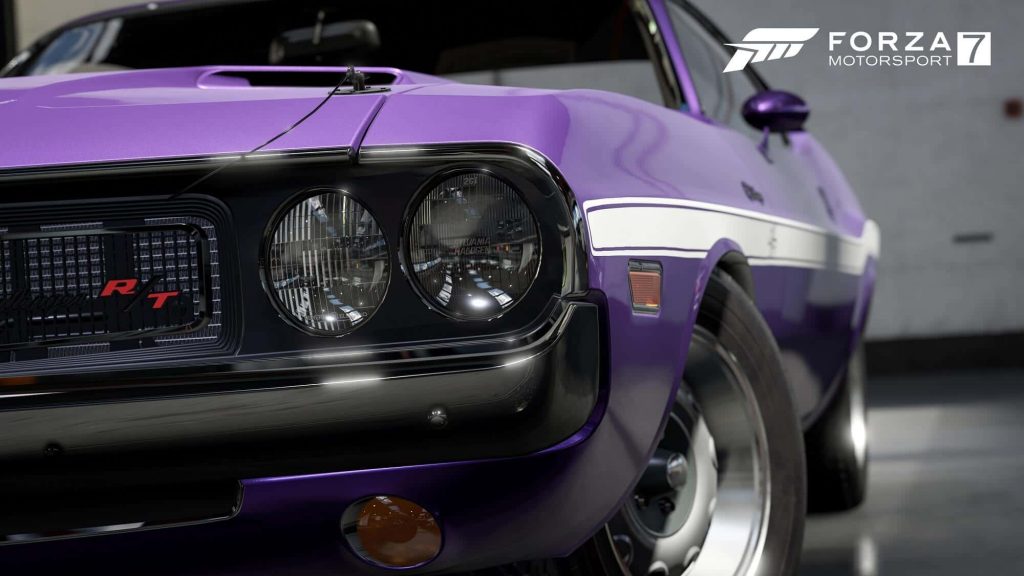 A feature that I loved was the interactive menu. Changing settings during the loading period helps the flow a lot as well as saving time between races. Forza Vista is available in-race now. A player can bring their car porn ouside and enjoy it in Forza's dynamic weather system.
The weather effects in FM7 are incredibly presented. HDR makes for bold greying skies and awe-inspiring shadows. All the effects are customisable with up to four slots for weather cycles during races. Start off in a mild breeze with a hint of drizzle, then a windy scorcher and end on a dark torrent. Each weather type has its own tangible effects on various parts of the track physics as you would expect. The transition between states as the track dries, warms up or puddle shrink etc is also modeled.
Off-Track
Incorporating menu music fully into Forza Motorsport 7 is a nice idea that will help alleviate soundtrack fatigue. Forza Motorsport 7 will also support Spotify. As someone who enjoys racing game music generally but tires of it eventually, this is a good idea that was used the Horizon series: playing music from OneDrive as a radio station.
Small changes have been made to the career mode – no longer do assists affect payment but bonus are paid for 'mods'. This is a card system similar to FM6 where you effectively 'bet' with no risk on a percentage bonus in exchange for a more difficult race experience. This should give newcomers a smoother ride through the career ranks while seasoned players can rack up big points.
FM7 aims for more legitimacy by filling out the championships and rosters. It also adds voice-overs from real racing drivers.
There are now four tiers of cars in the new grading system to help even out races. Xbox used the term 'apples for apples' to describe how career races will go. This should hopefully end the blow-outs that are common toward the mid-part of the career mode.
The PC will support multi-USB input so mix'n'match wheel and pedal combinations are now possible.
Forza Motorsport 7 releases October 3rd for Xbox One (enhanced for X) and Windows PC