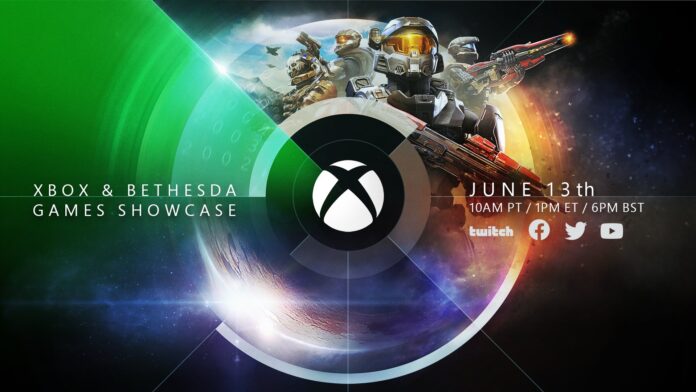 Tonight Microsoft and Bethesda held their E3 presentation. All announcements can be found in this article.
Starfield Releases November 11 For Xbox Series X And ​​PC, First Trailer Shown
Starfield is out November 11 for Xbox Series X, Series S, and PC.
Bethesda reveals this via a first teaser trailer for the space RPG. It reveals that players are joining Constellation, an organization that explores space on the "last journey of humanity" hundreds of years in the future.
Furthermore, little is known about the gameplay of the game. According to Bethesda, the game contains many features of titles such as Fallout and The Elder Scrolls, but it should also offer a new experience in the form of planet exploration. In addition, players can actively fly between the space bodies in spaceships.
Forza Horizon 5 will be released on November 9th, set in Mexico
Forza Horizon 5 was officially announced tonight at the Microsoft E3 conference. The game appears on
The game takes place – as previous rumors suggested – in Mexico. The game world is set to become the largest in the franchise to date. The racing game is coming to Xbox Series X and S, Xbox One, PC, and Game Pass. In addition to a trailer, an extensive gameplay demo was also shown.
The previous part, Forza Horizon 4, was released in 2018 and is set in England. The Forza Horizon games generally offer a more accessible and playful take on the serious Forza Motorsport games. In various settings, players are encouraged to participate in racing festivals and take place in the most varied cars.
S.T.A.L.K.E.R. 2 will be released on April 28, 2022
S.T.A.L.K.E.R. 2 will be released on April 28 on Xbox Series X and S and PC.
The game was shown via an extensive trailer at Microsoft's E3 press conference. At launch, S.T.A.L.K.E.R. 2: Heart of Chernobyl console-exclusive for Xbox Series X and S. The game will also be released on PC. The game will also be available on Game Pass. The video showed a lot of shooting action, but also atmospheric environments such as gray swamps and wooded areas.
2007 saw the release of the acclaimed shooter S.T.A.L.K.E.R.: Shadow of Chernobyl and 2009 saw the release of S.T.A.L.K.E.R.: Call of Pripyat. GSC Game World was due to start a new game in the series shortly after, but suddenly closed its doors. Developers from the studio then founded Vostok Games and S.T.A.L.K.E.R. 2 was cancelled. In 2020 it turned out that the long-awaited sequel is still in development.
Halo Infinite is coming out this holiday season
Halo Infinite will appear sometime during this holiday season.
A specific date was not mentioned. It concerns both the single player campaign and the first season of the free-to-play multiplayer.
The game was shown during the Microsoft press conference. Master Chief can be seen floating through a broken spaceship. He uses his grappling hook to pull himself towards debris. It also shows how Master Chief has contact with a new AI – Cortona no longer exists according to the new AI. After the campaign footage, multiplayer gameplay was shown. More information is provided in an article on Xbox Wire.
Halo Infinite is the latest installment in the long-running series centered on the Master Chief and the so-called "Halos," ring-shaped, Forerunner-made planets capable of wiping out all life in the universe. The latest Halo installment should offer an open game world instead of traditional levels.
The Outer Worlds 2 is in development
The Western RPG The Outer Worlds 2 is in development.
That was announced during Microsoft's E3 press conference. The game – which, like the original, is being developed by Microsoft studio Obsidian – is set in a new star system with a new crew. Apart from the trailer below, not much is known yet.
Microsoft did provide an update on Avowed, the other rpg from Obsidian, via Xbox Wire. The company says that Obsidian is busy with the development and that it wants to show more soon.
Arkane Unveils Redfall Open World Shooter
Arkane Austin has unveiled the open world shooter Redfall.
Redfall is set in a village of the same name on an island occupied by vampires who block the sun. In the game, players choose a character from a 'diverse roster' to take down the creatures together with others.
Redfall will be released in Summer 2022 for Xbox Series X, Series S, and PC.
Contraband from Just Cause makers is exclusive to Xbox
Contraband is the new game from Just Cause creator Avalanche Studios in collaboration with Xbox Game Studios.
The game will be released exclusively on Xbox consoles and PC. A first trailer was shown during Microsoft's E3 press conference, although no gameplay was shown.
The game is set in Bayan in the 1970s and outlines a true smuggling paradise. According to Avalanche, it should be their "most ambitious and spectacular game to date".
Psychonauts 2 will be released on August 25th
Psychonauts 2 will be released on August 25.
That was announced today at Microsoft's E3 press conference. The game had been unveiled for quite some time. Developer Double Fine is now part of Microsoft, but Psychonauts 2 was already in development before that time. As far as we know, the game is also coming to Xbox Series X and S, Xbox One, PlayStation 4 and PC. However, the game will be on Game Pass from day one.
First Battlefield 2042 Gameplay Trailer Shown
The first gameplay of the newly unveiled Battlefield 2042 was showcased during the Microsoft E3 press conference.
The gameplay is purely multiplayer action, as the game does not contain a single player campaign. Various vehicles, including tanks and fighter jets, are reviewed. It shows how a tornado wreaks havoc in the middle of a map.
Battlefield 2042 focuses on a large-scale war in which the United States and Russia play an important role. The world is irrevocably changing and that results in bizarre climates. Players control an elite group hired by these countries. One can control so-called 'Specialists'. These classes have their own specialties and their loadout is fully customizable. There are a total of ten different Specialists. The game is fully focused on multiplayer.
Read the complete news here.
Diablo 2: Resurrected releases August 23
Diablo 2: Resurrected will be released on August 23.
Blizzard announced this during the Microsoft press conference at E3. The game is shown in detail in a new trailer. The Blizzard also reveals that players who pre-order the game now can participate in the closed beta test.
Diablo 2: Resurrected includes both the main game and the Lord of Destruction expansion. Players can expect improved animations and effects, dynamic lighting and 4K resolution.
A Plague Tale: Requiem Sequel Announced, Coming to Game Pass
A sequel to A Plague Tale: Innocence has been announced, called A Plague Tale: Requiem.
In the sequel, the main characters Hugo and Amicia return, as does the swarm of rats. Players follow Amicia and her brother Hugo on a new adventure as they try to survive.
The first game is set in France in the year 1349, when the country is ravaged by the Black Death. Amicia must protect her younger brother Hugo while the two are pursued by the Inquisition and try to survive in the unforgiving world.
Snowboard game Shredders will be released in December
Snowboard game Shredders will be released in December.
Microsoft and Foampunch reveal this with a first trailer. It shows groups of snowboarders in action. Although little else is known about the title, at least players can play with others and determine 'their own style'.
And further:
Microsoft will release Xbox Mini Fridge later this year
Back 4 Blood Available On Xbox Game Pass
Jack Sparrow is coming to Sea of ​​Thieves on June 22nd
Twelve Minutes is coming to Xbox and PC on August 19th
Hades launches August 13 for Xbox Series X, Series X, and Xbox One
Somerville is the new game from the creator of Limbo
Microsoft Flight Simulator Coming to Xbox Series X and S on July 27th
2.5D Action Platformer Replaced Revealed
Atomic Heart Coming to Xbox Game Pass for Console and PC
Ten Bethesda Games Coming to Game Pass Today
Slime Rancher 2 for Xbox Series Consoles and PC Revealed
Xbox Series X Version Far Cry 6 Shown
Also read the other E3 summaries:
Summer Game Fest Kick Off Live: All the News Gathered
Netflix, IGN Expo and Koch Media: all the news gathered
Ubisoft Forward: all the news gathered